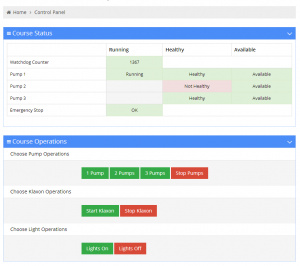 Prior to Xyroh, Andy was the founder of dotUK (A software development firm based out of Yarm and Stockton on Tees here in the North East),  again specialising as a developer in mobile apps, web applications and desktop software for a number of business clients – this is one of those portfolio case studies for an industrial programming project
Industrial Programming
Industrial Programming is a term reserved for the programming of industrial equipment, pumps, valves, etc to control and monitor any number of simplex or complex scenarios. In many small business scenarios the distinction is being blurred with the advent of 'Internet of Things' products such as Hue Lights, Ring doorbells, Tado home heating automation etc – the concept however is the same, you turn things on and off.
In this case we are using a combination of a web and mobile based dashboard to turn on and off the paddle sports course pumps as required, the dashboards being the visible, more traditional development side, but the industrial programming being what happens behind the scenes to interface with the pump infrastructure.
Project Summary
The Glasgow Watersports project is a multi phased industrial programming project that will ultimately empower the user to control and administer the canoe course pumps and lighting from mobile devices, and place site bookings over the web.
The core control system part of the project allows for programmatic control of the sites pump, lighting, and klaxon systems using the industry standard Modbus protocol. This is being offered in conjunction with Retroflo, a North East based Electrical Contractors and bringing on board their expertise in industrial process control.
The full flow of the development will commence with a web based booking system provided by dotUK, end user bookings are then pushed privately to the Glasgow Watersports site where the onsite infrastructure will allow users to access their booking and the control systems via any wifi enabled device.
Local users can then control the pump output (strength of water flow) on demand in accordance with the abilities and expectations of their group.
A full remit of expected industrial safety, and health and safety best practices are of course in place but this investment allows the end user, through dotUK's software development expertise, to bring control and a more beneficial user experience to the end user.